Home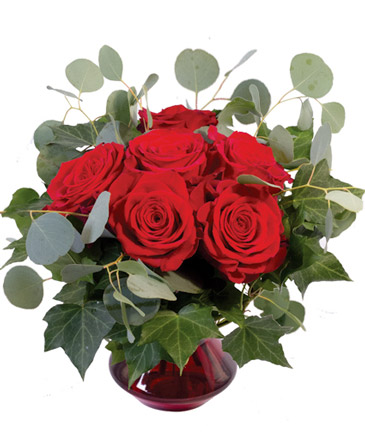 Crimson Ivy Roses
Flower Arrangement
Add a touch of love and romance to their day with our Crimson Ivy Roses arrangement! Half a dozen red roses nestle in ivy and silver dollar eucalyptus for a simple and beautiful design that will win your way into their heart. Surprise your special someone today!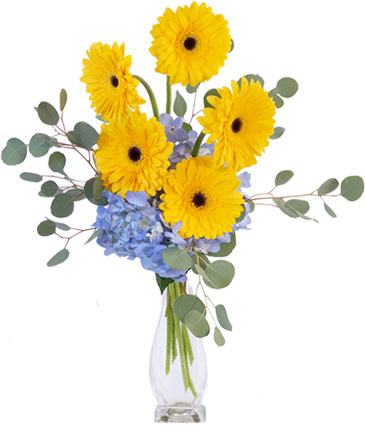 Yellow Blues
Floral Arrangement
This bright arrangement is sure to please! Simple and elegant, Yellow Blues features dazzling yellow gerberas, lovely blue hydrangeas, and gorgeous silver dollar eucalyptus. This vibrant and colorful arrangement is the perfect pick-me-up for any occasion!
Due to this past years WW SHUT DOWN OF COVID-19, THE FLORAL INDUSTRY- Growers, and Wholesalers are experiencing shortages in many varieties of flowers. We have been told this will last approximately two years. So please check with us on the availability of product for each of your orders. During high traffic holidays it's best to order early (7-10) days before your chosen delivery date.
**Please leave a message if you reach our voicemail as we are attending to another call, we WILL call you back. We are sincerely sorry for any inconvenience!!
*Substitution Policy*

In some instances, the florists photo may represent an overall theme or look and include a one-of-a-kind vase or planter which can not be exactly replicated.

Although the actual bouquet may not precisely match the photo, its temperament will.
Substitutions of flowers and/or containers happen due to weather, seasonality and market conditions which may affect availability. If this is the case with the gift you've selected, your local florist will ensure that the style, theme and color scheme of your arrangement is preserved and will only substitute items of equal or higher value.
*Canceled Orders are subject to a fee of 35% plus credit card processing fees.